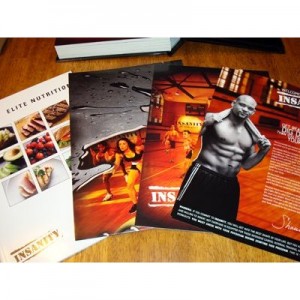 This review is a little longer in coming than many of the reviews of Shaun T's Insanity that you'll find online. Why? We actually worked all the way through this routine before commenting at all.
Beachbody instructor Shaun T, the mastermind behind Hip Hop Abs, has produced what the company claims "may be the hardest workout ever put on video." The principle was simple: build a 60-day workout plan around the hardest, most demanding interval workout routine they had ever offered. To be commercial the program had to be approachable, to be effective it had to be hard.
We have written about interval training before. The idea is that short periods of high intensity exercise followed by a period of recovery increasing the efficiency of the overall exercise. That's the science, what about the program?
The Insanity program arrives in the nicest packaging that Beachbody has ever shipped. The DVDs and accessory manuals are neatly contained in a binder that looks like a finely bound book. The program consists of 10 DVDs that house a stepped program spread over 60 days. The binder includes a workout calendar that organizes the routines as well as and introductory brochure and the "Elite Nutrition" guidebook.
Who is Insanity For?
Insanity is definitely not for beginners. Insanity is a routine built to challenge even the most hardened home fitness enthusiast. The DVDs contain the most intimidating health disclaimer ever and rightly so. If you are at a level that Insanity is reasonable to attempt, checking with your physician is probably unnecessary but this is one of those rare exercise videos that the intensity of disclaimer is warranted.
Elite Nutrition:
This is the most comprehensive diet plan Beachbody has ever shipped. Instead of mere guidelines and a few recipes, for those that need more guidance there are fully programmed menus that contain balanced calories designed to accompany the Insanity workout routines. The food is generally appealing without the usual diet guide tasteless or fake diet foods. Even as a standalone item the guide would be a worthwhile purchase for people embarking on a workout routine that need more nutrition guidance.
Fit Test:
As with many home workout programs Insanity builds in a fitness test at the beginning of the program and at strategic points throughout. Regardless of the workouts you've been doing before there's going to be some aspect of the fit test that leaves you panting and wondering if you are as fit as you thought you were. It's 30 minutes well spent just getting a feel for some of the moves and "tuning in" to what is to come.
Month 1:
The Insanity routine is divided into 2 months separated by a recovery week. From the first video it's on. Shaun T wastes no time chasing a high heart rate during the warm up exercises. During the first 4 weeks workouts are 30-40 minutes in length and vary from all out cardio to targeted intervals to plyometrics to resistance routines coupled with intervals. There is a Cardio Abs routine that ads on about 1 day per week. Each workout in the series includes a warm-up, opening stretch, and cool-down stretch. The workouts can be initially intimidating but by the fourth week they should be a comfortable challenge if not necessarily mastered.
Recovery Week:
The Core Cardio and Balance routine that is programmed for every day of the six day recovery week takes about 45 minutes. The routine targets the total body and includes comparatively light cardio the main body of Month 1 as well as exercises more focused on balance and strength building.
Month 2:
The second four week block begins again with a test of fitness. If you've been staying with the program you should be noting marked improvement in your results. The routines for Month 2 are all labeled as "Max" routines. They are similar to Month 1 but much moreso. The ab routine changes to "Max Cardio Abs." From the first warm-up of Month 2, it's clear there is no fooling around and these routines up the intensity and time commitment to 45-60 minutes.
What's Next:
As is so often the case, there is little real guidance about what to do when the program is over. The intensity of Insanity leaves little option to go back to old habits. The cardio is too intense to be easily satisfied by a lesser routine. Wrapping around to the recovery week with a start back to Month 2 seems like the most sensible approach though this isn't in the guidebook anywhere.
There is a deluxe edition that includes sports and weight training that integrates into the main calendar. The add-ons also include "Insane Abs." We have not seen the 3 deluxe DVDs so we are unable to comment on them.
Her Take
Disclaimer: I am an Independent Beachbody Coach.
There is a lot of jumping in this program. This means several things. First, if you have knee, hip, or back trouble, or if you simply "never have both feet leave the floor", this is not the workout for you. There is no way to modify it for low impact and still get high intensity. Second, you will want to pay attention to your workout gear. After consulting a top-notch podiatrist, we retired our cross-trainers in favor of quality running shoes for better shock absorption. Ladies, you will want to wear good quality, supportive sports bras too.
This workout is all about the core. Shaun T reminds you frequently about this, but it bears repeating. You will have the best results if you remember to keep the core tight, your plank position flat, and follow all the other cues.
Unlike many programs, flexibility is not an afterthought. Shaun T spends plenty of time making sure you stretch both at the beginning and end of the workout. The "recovery" workouts are even more focused on flexibility.
I have never been a big fan of sports nutrition products. Most people simply don't need them. After all, if you are burning 130 calories on the stationary bike, drinking 140 calories of sports drink is not helpful. I've always just used water for hydration. However, this is a program where you will need to use a recovery formula! You will simply be sweating too much for water to be the right answer. Further, you will want to be very careful about what you eat in that "golden hour" after you work out.
While the Fit Test is a good measure of how far you will come if you can complete Insanity, I wish I had a heart rate monitor from day one. I clearly have better stamina, faster cardio response, and for that matter slimmer thighs.
His Take
After doing a variety of mixed routines from Beachbody and others, I was intrigued by the challenge of "the hardest workout ever put on video." The first routine was tough but it was clear I could push through. Month 1 went smoothly but the first workouts of Month 2 were downright confidence shaking. Now, having completed on full 60 day cycle I am leaner than I have ever been and under 180 pounds for the first time in five years.
According to my heart rate monitor Insanity had me burning 800 to 1000 calories daily during Month 2. Few other home routines can even get to this level of exertion. Insanity is awesome. The routines can get a little monotonous but you're working so hard you probably won't notice for 2 or 3 cycles.
For home fitness fanatic or even just the athlete through the off season Insanity makes an excellent routine to pursue. For lesser home athletes, though, Insanity is really just too much, too hard and too fast. Insanity is definitely not a place to start a fitness routine and frankly, not a place many home exercisers will ever want to go.