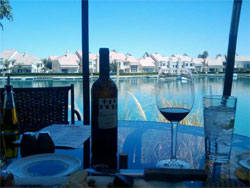 Over the years, there has been a lot said about the "Mediterranean Diet." In short, people who eat like the modern-day Greeks or coastal Italians — lots of vegetables, some olive oil, relatively little meat and meat products, moderate wine consumption — tend to live longer. Researchers have recently completed a study of 23,000 people in Greece over the course of a decade to find out what they are doing right, and the results have just been published in this weeks British Medical Journal (BMJ).
The results don't turn out to be any surprise at all. News flash: veggies are good for you! Olive oil and nuts are also good for you, and wine — in moderation — is good for you. Limiting meat intake is also good for you. The only places this study differs from the usual Mediterranean diet study is that low fat food and cereal consumption didn't help. Also, seafood and fish consumption not only didn't help but had slight but not statistically meaningful increase in risk of death.
So the take home is what researchers keep finding about the Mediterranean diet: olive oil, nuts, veggies and wine are all good. Meat not so much and this time some of the other stuff matters less.
Keep in mind though, only moderate wine intake is good for you. Alcohol is still responsible for 4% (one in 25) of deaths worldwide. Drink responsibly.