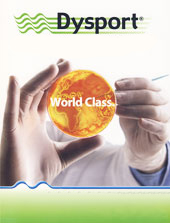 This should make a dent in the pricing of Botox treatments: Dysport, a competing preparation of Botulinum toxin has been approved for use int he US. This is probably ultimately not the best thing for the American consumer. Already, there have been global problems with misuse of Botox including problems with people mail ordering it for home use. Further the FDA has become increasingly concerned about possible overuse of these compounds to the point of issuing an FDA warning that, surprise, these compounds are poisons.
His Take: I have had heartburn for some time with poorly trained nurses and medical assistants doing Botox treatments instead of physicians. To many consumers the pricing is now comoditized and physicians who inject simply cannot compete. Driving down the cost of raw materials won't make this problem better. If anything, more approved compounds will make it harder to tell not just the real from the fake but make the materials harder to keep out of the hands of less competent injectors. That in turn will create more demand for illegitimate mail order injections for people to do at home, after all if anybody can do it…
It is worth noting that I am very much in favor of Botox as a wrinkle treatment. It works very well in the hands of a competent injector and does what nothing else will do, reduce the appearance of muscular lines, but I have grave concerns about the expanding marketplace for treatments and what this will do to those that shop for services in that market.